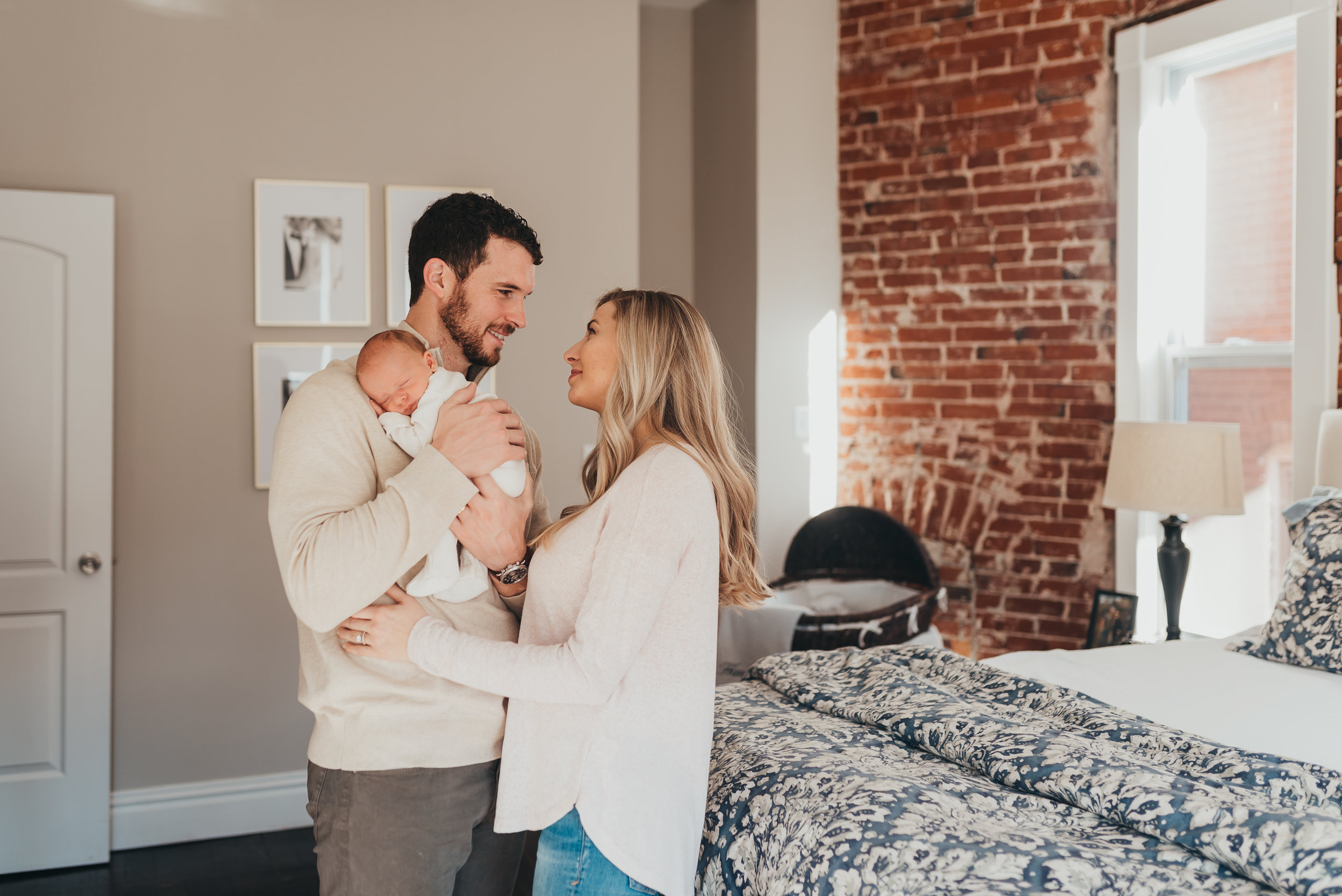 Hi! I am so excited for your upcoming family session. This guide will help you prepare for your newborn or fresh 48 session. You find details on preparing your home, styling tips, and what to expect during and after your session. Please do not hesitate to reach out to me via text or e-mail with any questions before your session. I also encourage you to join my client VIP group where I share styling tips and other info that maybe help prior to your session.
---
Fresh 48
I get asked this question most often, what do I wear for my fresh 48? What about the baby? For yourself, I say keep it simple and comfortable. You are recovering and being comfortable is the most important thing. I suggest your favorite night gown, robe, comfortable pants, maxi dress, or a tank. For dad and siblings, keep it simple and neutral. Avoid shirts with words on them, logos, or bright/neon colors. They can reflect colors onto the newborn's skin that can be hard to fix in images.
For your new baby, I highly recommended starting the session with the classic white onesie from the hospital or naked under a swaddle. This allows me to capture those sweet little details easily that are so unique for a hospital session. If you want to personalize things, I suggest a hat, bow, or swaddle. Some of my favorites are Lou Lou and Company, Copper pearl or Little Unicorn. We can also change outfits for the baby if it is a full fresh 48.
Most importantly, please notify via e-mail or text ASAP when you go into labor and once you have the baby. I am a mama to 3 littles so I really appreciate the extra notice to prepare a babysitter. These session typical take place the next day or so after delivery around 9 or 10 am, depending on how you delivered. Please do not hesitate to reach out with any questions or concerns prior to your session.
---
Your home
I am not expecting to walk into a perfectly clean home! I am a mama and I know how hard it can be just to get everyone ready! I recommend choosing 2-3 rooms such as the living room, master, and nursery to declutter. Remeber it does not have to be perfect! Sometimes clearly nightstands or moving large items you would not want in images is enough. I will also move things if I need to on the day of your session. I will choose shooting locations based on the natural light in that room during our session.
What to wear
Wardrobe is such an important part of your newborn session. Every full session includes access to an online styling site and help from me. You will receive a code to access the site with your session prep. On the site, you can dress your family based on colors or styles. They offer lots of options and show how accessories and layering can add so depth to your images. You can purchase items directly from the shops in the store or use it as a guide on what to buy. Your clothing should reflect your family style! I always recommend that mom finds something she feels amazing in, then work the rest of the family off of that. For moms, I recommened a simple maxi dress, flowy top with leggings, kimonos, or chunky sweaters. Wear something you feel comfortable cuddling up and moving in. You will not feel 100% like yourself those first few weeks after delivery so choosing something you feel comfortable in is so important. Also, neutral/soft colors and prints work best and are so timeless. Avoid neon or bright colors as they will cast colors onto your baby and can be difficult to fix later. I am happy to help you decide what looks best. For your newborn, 1-2 outfits usually works best. A simple white fitted onesie is so timeless if you want to keep it simple. I usually bring along a few swaddles, bonnets, hair bows, and blankets that can be used for solo shots of the baby or during your family shots. Let me know in the session prep questionnaire if there is style or look you are wanting for your session.
The day of your Session
Newborn sessions are usually shot around 10am. Prior to my arrival, I recommend turning up the heat or turning down the A/C in your home. A warm baby is a happy baby, especially for any unswaddled/diaper only shots. Feeding your baby about 20 minutes prior to arrival usually helps your infant to be calm and sleepy. It is not uncommon for your baby to be awake or need to feed again during the session. I am able to obtain nursing images if you wish during this time. These sessions are very laid back in nature. We let the baby or toddler guide our sessions. It is not uncommon for an infant to want to be held a lot during your session. And that is totally fine!!! I will not force a baby or toddler into doing anything they are not wanting to do. We can always try something else or take breaks, if needed. A newborn session typically last around 1-2 hours. When I arrive, do not be suprised if I turn off all the lights and open the shades. This helps me to see which areas of your home are best for shooting in. I may move around items that I do not want in shots or access the window light better.
Siblings
One thing you will NOT hear me say to your child is "say cheese". I never force a child to sit still and smile at the camera. Every child is different, so I try to do what works best for each one. Some children take some time to warm up and some are ready to go! I am more than happy to give a shy child the time that they need. Some children want to held by mom the whole time and that is perfectly ok too! This session is a time to relax and just be with your children and partner. I am not expecting perfectly behaved children. Trust me when I say, the chaos brings emotion and movement to your images. I will guide you and your family in poses but it also ok for you to just be natural with your spouse and children. Sing, talk, or play with family just as you would if I was not present. Being yourselves is what will create the images you love. There are no rules or expectations! I will guide you and the rest will go from there, I promise!!
After your session
Once your session is complete, I will post a sneak peek on Facebook and Instagram, usually by the following day. You are welcome to share this post with family and friends! Once your gallery is complete, typically 2-4 weeks, you will receive an email for access to a private online gallery. It will be open for download for 2 weeks. I highly recommend printing your images through me or a high quality printer such as MPIX. Please let me know if there are any questions or concerns you have prior to your session. I am happy to help in anyway I can.
-Angie